October 5, 2022
Posted by:

admin

Category:

Laparoscopy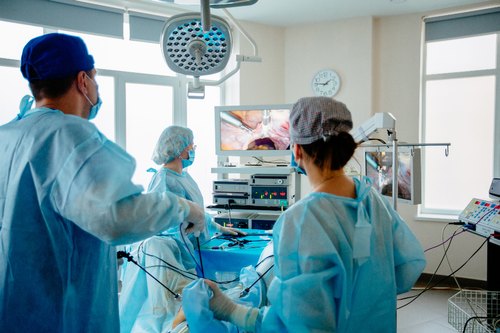 Laparoscopy uses a long, narrow tube with a high-resolution camera and powerful lighting (known as Laparoscope). As you proceed with laparoscopy in Varanasi, a tiny incision is used by the surgeon to insert the laparoscope into the abdominal wall.
With the aid of the camera, it captures images as it moves through the abdomen and transmits them to the television monitor. During this procedure, samples for biopsies can also be acquired. Less recovery time, a smaller incision that leaves fewer scars and a shorter hospital stay are a few of the key reasons for the popularity of laparoscopy treatment in Varanasi.
If we have to define laparoscopy surgery in layman's language, we can call it a 'keyhole' surgery that is meant to either diagnose or treat organs in and around the pelvic and abdomen region. Moreover, the same surgery can be done for other health issues like ligament damage in joints including knee joints and shoulder joints, given that medical experts have recommended the same.
On the other side, if you are looking for the best laparoscopy surgery in an Indian city like Varanasi, you have to conduct some research in the same regard. Moreover, patients must know that laparoscopy treatment must only be conducted by trained professionals from the laparoscopic surgeon in Varanasi.
Besides, Laparoscopy in Varanasi must only be done as per the recommendations and suggestions of your medical expert.
Cost of Laparoscopic surgery in Varanasi:
The cost of Laparoscopic surgery in Varanasi is significantly cheaper when compared to other metropolitan cities in India.
The minimum cost for Laparoscopic treatment starts from INR Rs.33,250
The average cost of Laparoscopic surgery is INR Rs.45,500
The maximum cost for Laparoscopic surgery is up to INR Rs.77,000
The same cost, however, may vary according to the laparoscopic surgeon hospital in Varanasi you have chosen for your respective case. While few hospitals incorporate obsolete medical technologies, they may offer you cheap laparoscopy treatment options.
This is where you need to be extra cautious and careful regarding your selection of the same expert as a medical professional. Do conduct your research and brief analysis before finalizing a clinic or hospital in the same regard.
The factors that determine the cost of Laparoscopic surgery but not limited to are:
Admission fee
Doctor fee
Age of the patient
Type of Laparoscopic surgery
The medical condition of the patient
Post-surgical complications ( if any)
Admission room that you opted for
Any other lab tests or examination tests such as X-ray, ECG, etc
When these factors are taken into consideration, the cost of one Laparoscopic Surgery in India on average comes to around USD 500 to USD 1100, whereas, the same surgery in the US costs around USD 5,000 to USD 10,000.
So, we can say that the costs of the same laparoscopy surgery in India is way lower than in the USA. This comes as one of the biggest reasons why most patients choose Indian cities for their medical treatment and surgeries.
Besides getting the best in class treatment options, they can save a good amount of money during the process.
Recovery time for Laparoscopy
Usually, it takes around 1 to 3 weeks for the Laparoscopy incision to be healed properly after a Laparoscopic Surgery.  On the other hand, your medical professional may discharge you within 1 to 2 days after the surgery,
Cost of Laparoscopic surgery in other major cities of India:
| | |
| --- | --- |
| City | Cost (INR) |
| Bangalore | Rs.35,000 – Rs.70,000 |
| Delhi | Rs.36,750 – Rs.73,500 |
| Mumbai | Rs.38,500 – Rs.77000 |
| Gurgaon | Rs.35,000 – Rs.70,000 |
| Chennai | Rs.33,250 – Rs.66,500 |
| Hyderabad | Rs.35,000 – Rs.70,000 |
| Pune | Rs.35,000 – Rs.70,000 |